2020 was not an easy year, but as pointed out in my previous blog post, amid pandemic-driven challenges ranging from major travel restrictions to distancing and wearing masks out of the water, PADI Divers and Pros kept diving. Demonstrating extraordinary resilience and unparalleled determination, thousands of PADI Divers made thousands of dives as students and/or PADI Torchbearers. From hundreds of stories, anecdotes and praises in social and mainstream media, it's clear that PADI Pros at local PADI shops are playing a huge part in helping us stay connected to diving, go diving and advocate for the oceans. Here are just few examples of their resilience, flexible innovation, adaptive thinking and outright extraordinary grit:
In touch online. First and foremost, PADI dive shops everywhere helped us reduce our carbon footprint (less paper, less driving), repurpose lockdowns, increase our convenience and stay connected by upping their emphasis on connectivity: eLearning, social media and other online connection with their dive community. This was already the trend, but dive operators like Dive Team Sweden, Lysekil, Sweden; Kappi Divers, OT Weetzen, Germany; Scuba Legends, Canary Islands; Latitud Scuba, Chile; Splash Water Sports, Pittsburg, Pennsylvania, USA; Oceano Sub, Sao Paulo, Brazil; Atlantida Centro de Buceo, Columbia; and Float N' Flag Dive Centre, Ontario, Canada put the pedal to the metal. Their extraordinary attention to serving divers in new ways to meet the challenges went so well that in some cases, diver participation approached pre-pandemic levels. In one or two, it exceeded it.
No pool? No problem. Knowing that business as usual wasn't an option, PADI Pros got creative. When COVID closed all the local pools, Divers Incorporated in Michigan, USA, set a platform in a local quarry so that it met pool-training requirements, conducting courses following distancing and health requirements. And, it wasn't just beginning divers who benefitted from this type of resiliency and thinking. PADI operators like Aussie Divers, Phuket, Thailand; Cinco Oceanos Algarrabo, Chile; Oceano Scuba, Columbia; Waterdogs Scuba & Safety, Tennessee, USA; Huatulco Dive Center, Oaaxaca, Mexico and Bucea Hoy, Argentina used online outreach, COVID protocols and other region-specific adaptations to provide professional level training as well. When asked, "what did you do during the pandemic?" there are hundreds who will answer "I became a PADI Instructor (or Assistant Instructor or Divemaster)."
Innovations that will stay. Some of the ways PADI Pros are keeping us in diving will almost certainly stay with us. Boundary Island Dive Resort, China, hosted online webinars with other dive centers to grease the skids for divers ready to dive again as the pandemic eased up and allowed dive travel in that country. Shanghai Unique Diving Club, also in China, created indoor diving opportunities by offering freediving and the soon-to-debut PADI Mermaid program in their specially-built dive pool.
Giving something back. Besides helping us seek adventure, even dealing with whether their business will make it, extraordinary PADI Pros remembered that we're also saving the ocean — and helping each other. Jack's Diving Locker, Hawaii, USA used lockdown time to maintain the day-use moorings that protect Hawaiian corals from anchors, plus launched programs to get local youth in the water and free parents to work. Rich Coast Diving, Costa Rica, converted their shop into a local food bank to help the local tourist-dependent community survive. Stellar Divers, Lincoln, England ran Project AWARE Coral Reef Conservation courses online (as have many other dive operators). PADI IDC Staff Instructor Tamara Adame joined local tour guides, rangers and research to rebuild the Puerto Morelos coral reef, which was hit by Hurricane Delta in October. A number of PADI Members were among the Semporna Heroes group that organized local PADI Instructors to do a food drive in Semporna, Malaysia. This drive gave struggling local families a hand up, and encouraged recipients to join with them for local beach clean ups – helping the ocean and the community at the same time.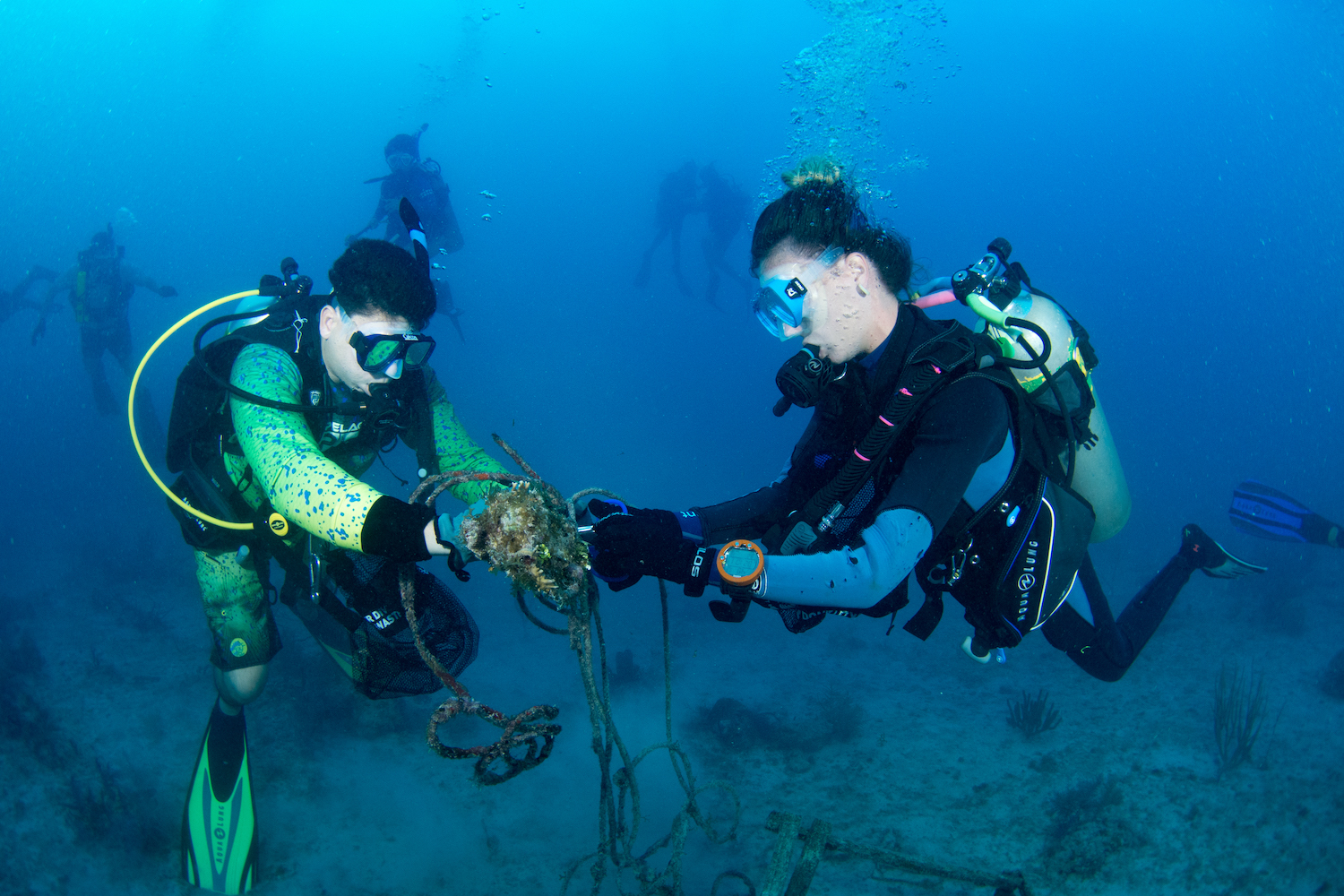 These examples could go on for pages because for PADI Professionals, doing the extraordinary has become ordinary, and it's making a big difference as we head into 2021. Two points:
First, we need dive shops. Jacques Cousteau once said that when someone, for whatever reason, has the opportunity to lead an extraordinary life, they have no right to keep it to themselves. PADI Pros embody this sentiment, which is why they do what they do so extraordinarily. Keep up with what your local PADI shop is doing, in person or online as is pandemically-appropriate. Even when we connect remotely through the internet, PADI Dive Centers and Resorts are still the heart of the dive community. They've kept us diving in 2020, they're taking us into 2021 on the right foot, and they're our best resource for leading extraordinary underwater lives ourselves.
Second, but they still need us. As I write this, COVID has loosened its grip on parts of the world, but in others it's tightening. These are still tough times for dive pros and for many it may be late this year or early next before the light at the end of the tunnel gets very bright. Either way, this is a great time to invest in some gear, book travel for when it's safe to do so or start a course online – whatever you can manage and is appropriate where you are. These professionals have extraordinary resilience, determination and grit, and they deserve our support as they guide us in seeking adventure and saving the ocean.
Stay safe and have great dives,
Drew Richardson.